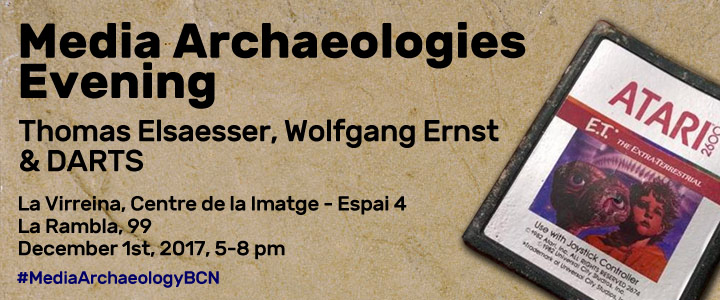 Organized by UOC Chair in Design & Multimedia Creation
01-12-2017, La Virreina, Centre de la Imatge – Espai 4, La Rambla, 99. Barcelona
The aim of a Media Archaeological evening at La Virreina is generate a space for sharing different approaches to the media and art histories taking into account perspectives, agents and variables under-explored in the established narratives of Art / Media History.
Through the 'research lenses' and case-studies introduced by Thomas Elsaesser and Wolfgang Ernst we will approach two different understandings of the fertile domain of Media Archaeology and its implications in the construction of divergent frameworks to approach the pasts/presents/futures of Art and Audiovisual Media and its related practices, infrastructures and agencies.
The presentations and the dialogue between these two pioneers researchers in the Media Archaeologies domain will be follow by a extend and participative discussion with researchers of DARTS and the public.
---
Talks
MEDIA ARCHAEOLOGY AS A SYMPTOM
Prof. Thomas Elsaesser (Amsterdam/Columbia University)
For nearly one hundred years, the moving image has been discussed primarily from the perspective of photography, by organizing our questions and theories around cinema as an ocular dispositif, based on light, projection and transparency, or as a recording dispositif, based on index, imprint and trace. In the age of digital imaging technologies, some of which have little to do with optics, such a history of the moving image seems too narrowly conceived.
The broadly based, if loosely defined research field "media archaeology" not only locates the cinema within more comprehensive media histories, it also investigates apparently obsolete, overlooked, or poorly understood past media practices. The expectation is that by once more "opening up" these pasts, one can enable or envisage also a different future. The question then arises: is media archaeology a (viable) disciplinary subject or a (valuable) symptom also of changes in our ideas of history, causality and contingency?
RADICAL MEDIA ARCHAEOLOGY (its epistemology, aesthetics and case studies)
Prof. Wolfgang Ernst (Humboldt University in Berlin)
Media Archaeology is both a method and an aesthetics of approaching technical objects. Within a broad range of such academic and artistic practices, radical media archaeology will be presented against the soft archaeological metaphor, with an emphasis on Foucault's approach and the non-human meaning of media-active archaeology. One characteristic of Media Archaeology is its focus on media materialism, analytically or creatively bound to practices like circuit bending.Seductive events like the excavation of once buried computer game cartridges (case E. T.) request a more code-oriented, critical resistance to the archaeological metaphor, just like media archaeology as artistic research such as the "Dead Media" project requires a media-epistemological counter-reading. Diagrammatic Media Archaeography will be proposed as alternative to culturally familiar narratives of media historiography.A special focus will be directed on video art and preservation where algorithms themselves become the archaeologists of archaic video recordings. The media-archaeological method is rather about signal "re-presencing" (Sobchack) than historicizing it (case early television recording, and the Voyager space mission "picture disc"). Media Archaeology as method of techno-logical research stays close to the signal (be it analogue waveforms or digital pulses).Media Archaeography as mode of its representation has been written already (e. g. Ina Blom's Autobiography of Video). For the challenge of media time heritage, video art preservation is applied media archaeology.
---
Speakers
Thomas ELSAESSER
Thomas Elsaesser is Professor Emeritus at the University of Amsterdam and since 2013 has been teaching at Columbia University. Among his most recent books are: The Persistence of Hollywood (New York: Routledge, 2012), Film Theory: An Introduction through the Senses (New York: Routledge, 2nd edition 2015, with Malte Hagener) and Film History as Media Archaeology – Tracking Digital Cinema (Amsterdam University Press, 2016). He has just completed European Cinema and Continental Philosophy: Film as Thought Experiment (Bloomsbury, 2018).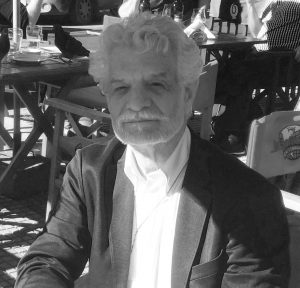 Wolfgang ERNST
Having been academically trained as a historian (PhD) and classicist (Latin Philology and Classical Archaeology) with an ongoing interest in cultural tempor(e)alities, Wolfgang Ernst grew into the emergent technology-oriented "German school" of media studies and has been Full Professor for Media Theories in the Institute for Musicology and Media Science at Humboldt University in Berlin since 2003 (early retirement autumn 2022). His academic focus has been on archival theory and museology, before attending to media materialities.His current research covers media archaeology as method, theory of technical storage, technologies of cultural transmission, micro-temporal media aesthetics and their chronopoetic potentials, and sound analysis ("sonicity") from a media-epistemological point of view.Books in English: Digital Memory and the Archive (2013); Chronopoetics. The temporal being and operativity of technological media (2016); Sonic Time Machines. Explicit Sound, Sirenic Voices and Implicit Sonicity in Terms of Media Knowledge, Amsterdam (2016).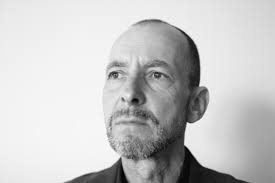 Respondants:
Pau Alsina is Senior Lecturer at the Arts and Humanities Department of Open University of Catalonia. Director of Artnodes Journal on Art, Science and Technology. PhD in Philosophy at Barcelona University, researcher in Media Theory and Media Art History. Director of the DARTS Interdisciplinary research group on Design, Arts, Technoscience and Society.
Vanina Hofman is a research fellow in the project "Future Practices: Spaces of Digital Creation and Social Innovation" at the Open University of Catalonia (UOC). She has a PhD in the Information and Knowledge Society. Her research focuses on divergent practices of preservation of media arts, media archaeologies and digital oblivion.
Ana Rodríguez is Lecturer at the Arts and Humanities Department of Open University of Catalonia. Executive manager of Artnodes Journal on Art, Science and Technology. PhD in Art History at Barcelona University, researcher in Fim and Visual Studies.
The DARTS Interdisciplinary Research Group works in the connections among Design, Arts, Technoscience and Society, from a practical, theoretical and historical perspective. DARTS has approached the Media Archaeology realm through several publications, research projects, conferences and specialized seminars.
---
Publication
During the meeting, Pau Waelder wrote a summary of the interventions by Wolfgang Ernst, Thomas Elsaesser, Pau Alsina, Vanina Hofman, Enric Mor, Ana Rodríguez, Irma Vilà i Òdena and the audience.Document: Media Archeologies Evening (PDF)
---
Videos
MEDIA ARCHAEOLOGY AS A SYMPTOM. Thomas Elsaesser
RADICAL MEDIA ARCHAEOLOGY (its epistemology, aesthetics and case studies). Wolfgang Ernst
Media Archaeologies Evening. OPEN DISCUSSION
The event videos are also available with the audio of the simultaneous translation into Spanish:
LA ARQUEOLOGÍA DE LOS MEDIOS COMO SÍNTOMA. Thomas Elsaesser (Traducción simultánea)
ARQUEOLOGÍA DE LOS MEDIOS RADICAL (su epistemología, estéticas y casos de estudio). Wolfgang Ernst (Traducción simultánea)
Encuentro sobre Arqueología de los Medios. DEBATE ABIERTO (Traducción simultánea)
---
Organizers
Media Archaeologies Evening is organized by the UOC Chair in Design & Multimedia Creation together with DARTS Interdisciplinary Research Group.
In collaboration with:
La Virreina Centre de la Imatge
ICUB – Institut de Cultura de Barcelona
UOC Chair in Design & Multimedia Creation:
Pau Alsina, Vanina Hofman, Enric Mor, Ana Rodríguez Granell, Irma Vilà i Òdena & Pau Waelder
Assistants: María del Mar Novel Bosch, Berta Alomà Sesé & Sofía Robledo Ruiz.
Event website:
https://symposium.uoc.edu/go/media-archaeology